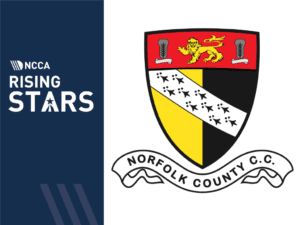 NCCA side Norfolk have two very strong emerging players in their set up currently. Norfolk's Elite Player Programme (The EPP) has helped to harness a strong relationship with Nottinghamshire Cricket, and open up the pathway for young talent. Norfolk's Ben Wilcox and Ben Panter are recent scholars to the Notts Academy.
All-rounder Ben Wilcox found a love of cricket from the age of seven and has continued to impress with his remarkable talent. The U16 made his debut for Norfolk CCC 1st X1 v Notts 2nd X1 in September of this year. In 2019, Wilcox captained London and East at the ECB Bunbury Festival and scored 133 off 119 balls achieving a SR of 111.76. To add to his list of honours he was also selected for 'Best of Bunbury' at Loughborough in 2019. We look forward to seeing his achievements in the Nottinghamshire Academy next year.
Ben Panter is also an early adopter of the game and has had the influence of his great uncle – Derek Godfrey who became Norfolk's 'Youngest Wicket Taker' back in 1958. Following in his footsteps, after 62 years, Panter reclaimed the title of 'Youngest Wicket Taker' for Norfolk when he made his debut against Nottinghamshire's second X1 on 10thSeptember this year at the age of 15. The young seamer received the performance of the year trophy in 2018 awarded by Norfolk and looks set for exciting progress within the Nottinghamshire Academy.