Norfolk bowler Andy hanby has mixed feelings after nine wicket haul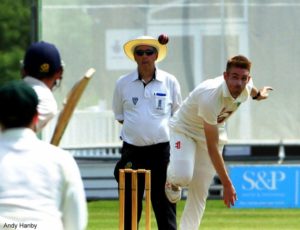 Andy Hanby produced magnificent match figures of 9-103 in Norfolk's opening Minor Counties Championship fixture of 2019 – but there was still a feeling of frustration after the game.
Hanby's heroics against Cambridgeshire at March went unrewarded as heavy overnight rain washed out the final day, meaning the visitors had just a draw to show for their efforts.
It was very much a case of what might have been for Norfolk who, thanks largely to Hanby's efforts, reduced their hosts to 64-6 in the first innings and 75-7 in second. Cambridgeshire recovered to 276 all out and 158-9 – but Ashley Watson's side were still in the driving seat going into the final day, having made 280 themselves.
"It wouldn't have been easy but I would have backed us to take the final wicket quickly and then knock off the runs required," said Hanby.
"We might have even won it in two days had we been able to take a few more wickets when the conditions were in our favour. But they put together a big partnership after the pitch had dried out and that made it lot more difficult. I thought I had got their top scorer (Lee Thomason who went on to make 109) leg before first ball – but that's cricket!
"It was still a big thrill to get my best figures for Norfolk – I had only ever taken three wickets in an innings before – but obviously it would have been even more satisfying had we won the game."
Norfolk's next fixture is against Cumberland at Barrow-in-Furness, starting on July 21.
Norfolk Lions were beaten by one wicket by the RAF in their first game of the season at Manor Park on Wednesday. The visitors, captained by Ashley Watson, made 156-9 in reply to Norfolk's 152 all out. Cameron Graveling took 4-29 for the Lions while Nat Laws top scored with 27.
Familiar face
Former England wicketkeeper Phil Mustard completed the unusual feat of playing and umpiring in Minor Counties cricket in the same season at March.
After leaving Gloucestershire Mustard signed to play T20 cricket for Northumberland but during the winter set his sights on developing a second career in cricket as an umpire.
He joined the ECB's national panel who stand in county Second XI, Minor Counties and University matches and made his Minor Counties bow in Norfolk's drawn match, just four weeks after making a one-off and final appearance for Northumberland in their double-header against Cumberland.
"I still enjoy playing but I have decided to give umpiring a bit of a go," he said. "I stood in my first Minor Counties match at March and I'm also down to umpire Norfolk again against Buckinghamshire down at Horsford in August.
"The Cambridgeshire match was only the second three-day match I have stood in. There are different regulations for Minor Counties cricket to first-class cricket so that takes some getting used to but it was a fantastic experience."